Our organisation
We build long-term relationships
based on excellence, passion,
integrity and safety
Did you know
Our fleet includes 
Panamax/LR1 and
Aframax vessels
Cape Tankers conducts its business based on long-term relationships with key partners who share a strong focus on customers. The company believes in creating flexible, reliable and safe transportation solutions that meet our customers' needs. The business platform is based on a proactive, but conservative philosophy striving to maintain a balanced approach of Spot and COA commitments, some of which have been successfully maintained and renewed for periods exceeding 10 years.
Cape Tankers was incorporated in 1995 and has grown to become an important global player in the transportation of crude oil and DPP. Since 2005, it has managed all commercial and operational activities for Panamax International (PI). The fleet is managed from the commercial office in Miami, USA and includes both Panamax/LR1 and Aframax vessels, comprising some 30 to 40 units.
Cape Tankers is a subsidiary of Ultranav, a privately owned shipping company for over six decades, headquartered in Chile and operating globally with offices in 17 countries.
»We believe in creating flexible, reliable and safe transportation solutions that serve customer's needs. We strive to maintain a balanced approach of Spot and COA commitments«




Cape Tankers is a strong supporter of initiatives to reduce environmental footprints. We take a proactive role in working with the authorities as well as our tonnage and cargo partners to find the optimal and cost-efficient solutions including participating in studies for projects offering carbon-neutral transportation options.
"A partner you can trust"
Cape Tankers commercial team is located Miami, Florida, with its Operations and Business Support team located in Santiago, as part of the Ultranav headquarters. Both of our locations allow us to have proximity to our partners and clients, since our trading focus is within the Americas region.
Our team consists of experienced professionals with high focus on people and processes, which has allowed us to efficiently respond upon the requirements of our clients. The particular nature of the maritime industry requires a singular approach, which is destined to be achieved by having a balanced team between experienced seafarers and on-land personnel.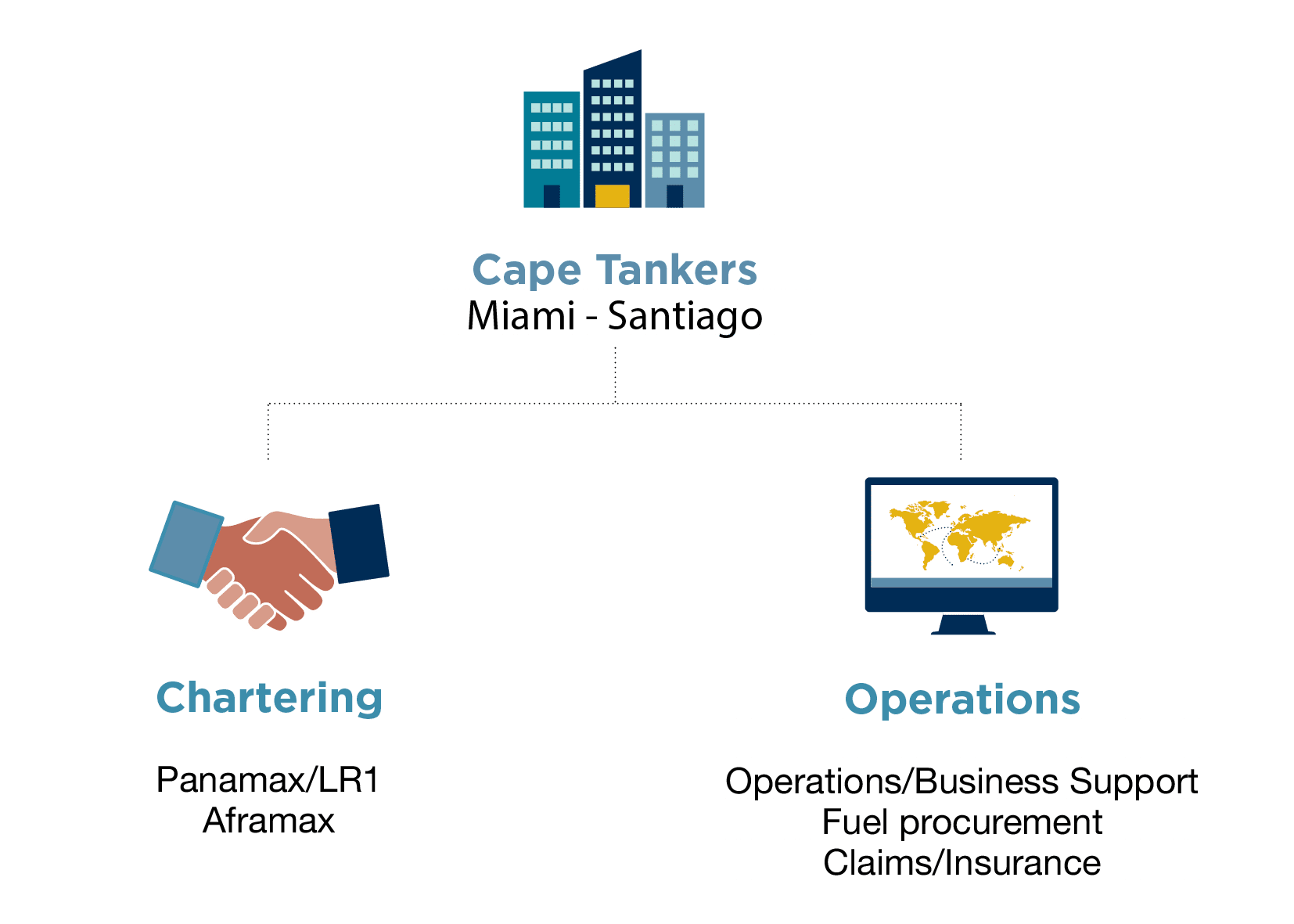 Cape Tankers lives by a set of corporate values, guiding us in our way of doing business.
We always strive to be a partner you can trust. If you want to know more about the guidelines we live by, please see our General business principles.
Excellence
We seek to contribute to our customers' competitiveness by anticipating and meeting their needs.
We encourage creativity and innovation, introducing solutions that are beyond the ordinary.
We strive to continuously improve the quality and effectiveness of our services.
Passion
We are passionate about our work and our company.
We believe that personal commitment and work well done make a difference.
We challenge ourselves to create value and exceed our customers' expectations.
Integrity
We act in an ethical manner, focusing on sustainability and safeguarding our reputation.
We encourage personal and professional development and a fair balance between work and private life.
We promote team spirit in a multicultural environment, without discrimination of any kind.
Safety
We believe that safety is an integral part of our mindset and key to our business success.
We place safety first, keeping health, life, environment, cargoes and assets free of risks.
We are committed to developing and stimulating a safe working culture onboard ships and ashore.


Maritime Anti-Corruption Network
The Maritime Anti-Corruption Network (MACN) is a global business network working towards the vision of a maritime industry free of corruption that enables fair trade to the benefit of all.

Getting to Zero Coalition
The Getting to Zero Coalition is committed to supporting the development of Zero Emission Vessels by 2030, whilst also pursuing a full decarbonisation of the industry by 2050.